Churches
Church cooling and heating both or require gentle air movement to maintain comfort in the worshipping environment. Airius Air Pear fans are used in churches of all types all around the world, to provide cooling, regulate comfort and reduce energy costs, utilising Airius' unique patented airflow technology.
Increase comfort for patrons
Save energy – up to 35% off cooling or heating costs
Cooling without air conditioning in hot environments
Improve your HVAC efficiency
Quiet models for sound-sensitive installations
Move and mix air without expensive and ugly ductwork
Request a Quote
Learn More
Aesthetically Pleasing and Non-Invasive Fans For Churches.
Church cooling is a key factor that needs to be managed in order to maintain a welcoming and comfortable space for worshippers. Airius Air Pear fans can offer significant value and improve comfort while reducing energy costs for a very small outlay. The high ceilings common in churches capture all the winter heat or mean an air conditioning system has to be very large and oversized to compensate for the cubic size of the space it has cool.
Using our fans means the air conditioning equipment doesn't have to be so big, reducing initial capital outlay and running costs will be measurably reduced.
These large conditioned spaces benefit significantly from utilising Air Pears as the energy needed to drive the conditioning is huge and we can reduce that by up to 35%. Paybacks will be in the vicinity of <30 months in most cases.
Airius fans are easier to install than other fans and fit in a wider range of ceilings – particularly important when pews are bolted to the floors and require substantial labor to remove.
Due to their small size and weight, we don't need structural engineering for the install works and we are not hampered by the cross beams and trusses often found exposed in older style churches. These can impact the airflow using normal or larger types of ceiling fans and those fans can also impact on the aesthetics.
For architecturally sensitive spaces, check out our Designer Series fans that can be custom painted to match your ceiling colour. For ceilings around 17 metres, consider the Q Series, our quietest model at that height. For dropped ceiling areas, check out our Air Pear Suspended Ceiling fans. Worried about odours, moulds, viruses, bacteria or VOCs? Then check out the factory-installed PHI cell for your fan system.
Because each facility is unique, please contact Airius or your local representative to specify your system. Various applications require different models based on considerations other than maximum throw. Air Speed, activity level, objects, noise, and other factors may affect model selection and placement.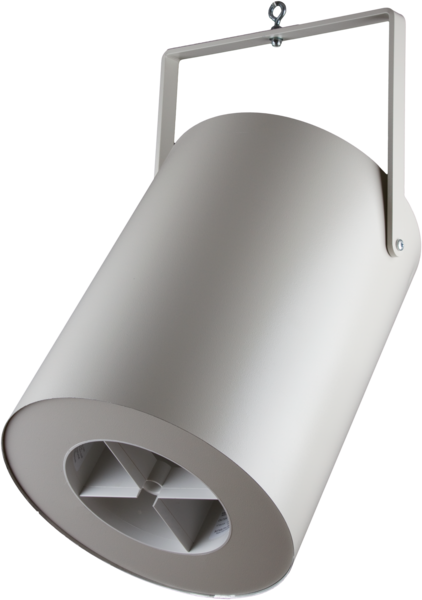 Church Cooling Benefits:
Up to 30% reduction of church cooling costs
Up to 35% reduction of church heating costs
Increased comfort for those in attendance
Maximizes the efficiency of all types of HVAC systems
Simple installation
Utilizes process heat, lighting and solar gain
Reduced run time on existing HVAC equipment
Reduced internal condensation and wet floors
Reduced ceiling temperatures increasing lighting lifespan
PHI units help mitigate odours, viruses, moulds,  bacteria and VOCs