Workshops & Maintenance
From the local machine shop to major fleet repair facilities, service and workshop facilities of all sizes can benefit from an Airius Workshop Cooling fan system. Working either on their own for summer cooling, for removing polluted air or alongside your HVAC equipment, Airius provides general air movement to reduce the cooling load during the summer and recirculate warm air to the floor during the winter. Employees are more comfortable while using less HVAC energy.
Increase comfort for visitors and staff
Save energy – up to 30% off cooling and heating bills
Unobtrusive and out of the way
Improve your HVAC efficiency
Quiet models for sound-sensitive installations
No impact on cranes or forklifts
Request a Quote
Learn More
"You'll be happy to know we finally got the opportunity to install the four Air Pear ceiling fans we purchased from you this past Wednesday morning. And you'll be equally interested to hear that when I spoke to the shop guys Thursday they said they had turned the heat on Wednesday night to stay warm but that the shop felt some how different with the new fans. So I asked the obvious questions, "what felt different?", and with a big grin he said, "it felt warm!!!!" The fans look like they are going to be a great investment, thanks for the good advice and product."

Russel A. Paine

VP, Paine's Inc
"We have been using Airius Thermal Equalizers in our production buildings for over 10 years and we've been very pleased with both their performance and our return on investment.Our buildings are industrial high bay and overhead crane served with ceiling heights ranging from 15' to 65'. Our challenge is there isn't sufficient clearance between to the overhead cranes and the structural ironwork to install an airfoil or other similar destratification solution. The Airius products work for us because they can suspended in unused spaces throughout the ironwork without degrading their performance. We minimized the installation and wiring costs by selecting 277V units and branching from our existing lighting circuits. We operate our units 24/7/52. In the winter, they effectively circulate the warm air that naturally rises to the ceiling. This helps maintain the temperature of the slabs and ironwork reducing fuel demand. In the summer, they circulate the air and produce a cooling effect making the production floor noticeably more comfortable. We would certainly recommend Airius to anyone who owns or manages similar buildings."

Craig Cigas

CEO, Engineer, Cigas Machine Shop, Inc.
Fantastic Service.
Utilise Airius Workshop Cooling fans to maximise comfort in summer by moving lots of air around in non conditioned spaces or  reducing your HVAC energy costs. Airius fans also work alongside your HVAC system to provide general air movement to reduce the cooling load during the summer and recirculate warm air to the floor during the winter.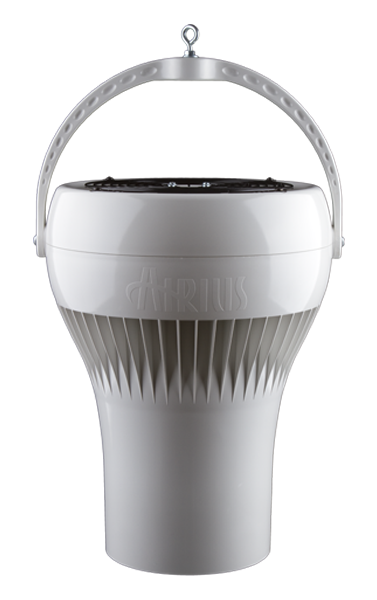 Benefits to Maintenance Facilities & Workshops
Reduces need for Air Conditioning in summer
Up to 35% reduction of heating costs
Up to 30% reduction of cooling costs
Increased comfort for employees and visitors
Maximises the efficiency of all types of HVAC systems
Simple installation
Utilises process heat, lighting and solar gain
Reduced run time on existing HVAC equipment
Reduced internal condensation and wet floors
Reduced ceiling temperatures increasing lighting lifespan
PHI units help mitigate odours, moulds, viruses, bacteria and VOCs
Similar Applications
Fleet Maintenance
Car Service Centers
Garages
Machine Shops
Fabrication Shops
DOT Facilities
Transport Hubs