Sports Halls
Airius has been installed for Sports Hall Cooling in athletic facilities around the world, from the local fitness club to professional sports stadiums. The option of strong air flow for summer cooling or the steady, gentle flow of air from an Airius unit increases comfort for patrons and wicks sweat from the floor and equipment. Since temperatures can vary significantly from floor to ceiling in a stratified room, Airius sees particularly high adoption in facilities with bleachers, rock climbing gyms, and in locker rooms.
Balances air temperature from floor to ceiling
Unobtrusive units provide strong cooling air flow in summer as required
Saves energy – up to 30% off cooling and heating bills
Improves the comfort of athletes and viewers
Request a Quote
Learn More
Case Study: Virgin Active
Case Study: YMCA Fitness
Teamwork.
Unlike oversized paddle fans which are typically installed behind cages in athletics facilities (often costing more than the unit itself!), Airius Sports Hall Cooling fans do not need separate protective elements to prevent damage from sports equipment. Their smaller profile, without exposed fan blades, sturdy construction, and safety anchor point attached to the fan motor ensure that a wayward soccer ball or basketball poses no risk to the unit or the players underneath.
The use of Airius units means no;-
Three phase power
No light strobing issues
No lighting redesign
No yearly costly maintenance contracts
No structural changes
No distraction to audiences or sportspeople
No dusty blades to clean
In addition to lowering energy costs and increasing safety and comfort of the athletics facility, Airius fans can be optionally fitted with a PHI unit to mitigate odours and kill mould and bacteria in locker rooms, potentially preventing the transmission of athlete's foot and other contact and airborne infections.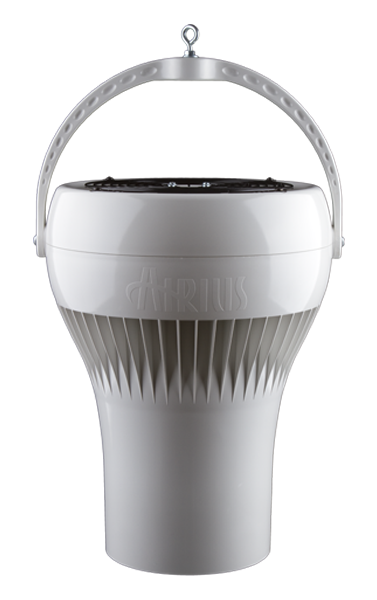 Sports Hall Cooling benefits to Athletic Facilities
Significant  summer cooling opportunities
Up to 35% reduction of heating costs
Up to 30% reduction of cooling costs
Increased comfort for athletes and spectators
Maximises the efficiency of all types of HVAC systems
Compact design allows the fans to fit in tight ceiling locations
Simple installation
Airius fans are freely suspended to deflect impacts from moving objects such as a basketball
Utilises process heat, lighting and solar gain in winter
Reduced run time on existing HVAC equipment
Reduced internal condensation and wet floors
Reduced ceiling temperatures increasing lighting lifespan
PHI units help mitigate odours, moulds, viruses, bacteria and VOCs
Similar Applications
Indoor Sport Stadiums
Gymnasiums
Dance Studios
Indoor Cycling Facilities
Indoor Tracks
Ice Rinks
Rock Climbing Gyms
Bowling Alleys
Locker Rooms
Indoor Practice Fields
Indoor Tennis Courts
Natatoriums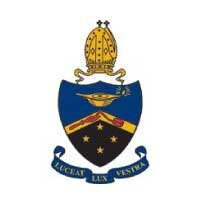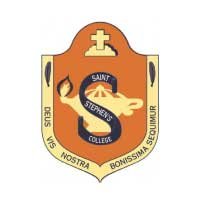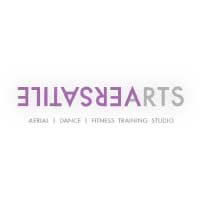 "I thought I would email you to give you some feedback on the Airius Air Pear fans we installed in our Centenary Sports Hall in December 2014. We installed 8 x Model 60-PS4 Airius Air Pear fans to the ceiling of our Centenary Sports Hall. The hall has a problem with very little cross ventilation available due to it being built underground and has a synthetic basketball court as its roof so the sports hall heats up in the summer months.

The installation of the fans was straight forward and our contracted electrician took two days to fully install the air pear system with two controllers. The air pear system has been in operation for six months now. We are more than happy with the results. The space is a lot more usable in the hotter summer months. We have received great feedback from both the school PE department and also external hirers. High intensity sport is played in the gym now with a lot more comfort.

We have the ability to set the fans on five settings ranging from 20%, 40%, 60%, 80% or 100% capacity. It is rare we turn the fans to 100% even though they are 8.5 meters off the playing surface. To put it into context the gymnastic training group can only have the fans on a setting of 3 out of 5 (60%) because it affects the throwing of the ribbon in the air.

The fans are quiet and move the air around the hall with ease. We have found in the last month we can use the fans to circulate the warmer air at the ceiling height of the hall to the playing surface level to cut down on the need for winter heating. I have received our power consumption invoices for the gym and the fans have made very little to no difference to the running cost of the gym. We leave the fans on overnight to help cool the room for the next day.

We are extremely happy with the performance and comfort we receive since installing these air pear fans and would happily recommend them to other people needing to circulate air and increase thermal comfort. Thanks again for all your professional service and follow up received."

Keith Stevenson - Facilities Manager

SCEGGS DARLINGHURST
"I spoke to the high school PE teacher (major user of the stadium) & they are finding the AirPears really good, especially in summer!"

Helen Mathew (FRAIA)

MOUNT BEAUTY SPORTS CENTRE
"FYI, The destrat fans installed over the summer have had a huge; positive impact in terms of comfort. We have monitored this over several months and find them to be money well spent. Our ambient temperature is steady 68°-70° throughout gymnasium. We no longer make adjustments on a regular basis. The space is untouched and comfortable. Job well done."

Ken Sugza

George Washington School #1, Elizabeth NJ School District
"We purchased Airius free hanging destratification fan units and installed them into 2 sports halls and the swimming pool area at the Sixmile Leisure Centre, Newtownabbey.

These units have made a vast improvement to the internal atmosphere within the buildings and the public who use the facilities find the air quality greatly improved for sporting activities. The heating systems come on much less often and the complaints from swimmers about the warmth in the swimming pool area has reduced by 90%.

We have found the Airius units have reduced our heating costs by an impressive 25% in sports halls and swimming pool area; the thermostat in the swimming pool building has also been turned down 2°C!"

James Dunn - Facilities Manager

NEWTOWNABBEY BOROUGH COUNCIL
"Saint Stephen's College is a co-educational, Preparatory to Year 12 independent school at the Gold Coast in Queensland. We have a large multipurpose sports centre housing 2 basketball courts. The floor area of the hall is around 1300 square metres and the roof is approximately 9 -10 metres high. This space is used for Physical Education, basketball games, exams and school assemblies.

On hot days, the auditorium air was still, lacked air flow throughout the space and created issues for all those participating in physical education classes and sporting activities in the building.

We considered using large fans to solve this problem. However, we decided to use Airius Air Pear Model 60 PS4 units for their perceived effectiveness, appearance and competitive pricing. 12 of the Air Pears were installed, equally spaced around the hall with two speed controllers.

The units were suspended off the roof structure and were easy and quick to install.

The Airius Air Pears fans have proved to be effective and do not dominate the space but fit easily into the hall; they are almost not noticeable whilst moving the air around the hall, creating air flow on hot, still days making the hall more comfortable to teach and learn in."

Rod Seib - Director of Sport

SAINT STEPHENS COLLEGE
"The difference has been immediate and profound…you can really feel the air movement under the fans, despite the fact that they are 30 feet above you. My students are delighted."

Beverly Sobelman

Versatile Arts Studio
"I've taken a couple of snapshots at the temperature and in the gym the difference is about 1 to 1.5 degrees between the high and low thermostat. In the library, the difference is about 1 degree."

Mike Cuskelly

Director of Maintenance, BVSD
"I would like to compliment your company on a fine product, the Thermal Equalizer. We use these fans for an indoor Rock Climbing Gym application in a 6,000 sq. ft warehouse with 30 foot ceilings. Rock Climbing Gyms present a unique challenge for ventilation and air circulation, because climbers at the top of the wall are hot from exerting themselves, and their partners on the ground are cold while standing still. Therefore we must reverse the natural temperature gradient in the space.

The AIRIUS Thermal Equalizer is perfect in this application for several reasons. First, they are strong fans which really move the warm air down to floor level. Second the fans are quiet, we use eight fans and you can barely hear them while running. Third, because of their compact size we can put them close to the climbing wall without the risk of a climber being struck by a moving fan blade. Fourth, they are energy efficient, and we save on air conditioning costs. Last but not least, they look nice!"

Matt Lambert

Owner, Rogue Rock Gym