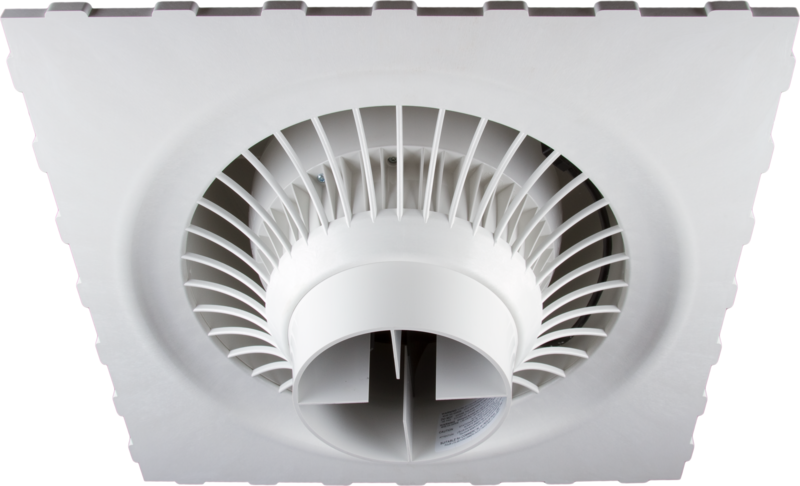 Suspended Series
The Airius suspended ceiling fans located in our 'ceiling kits' accommodate ceiling heights of both Gyprock and ceiling tiles from 2.5 to 7.5 metres and are adaptable to changing floor plans. The Airius product is easy to install and very power efficient, using single phase power that requires between 12 and 31 watts depending upon the model.
Find out how air movement can offer up to 7 degrees C perceived cooling at 36 Deg C.
How does stratified air impact your business, and how can Airius help?
Watch a video of the Airius system in action.
Download the Airius Oceania brochure.
Download submittal documents, BIM/REVIT files, and our installation guides.
Typically the Airius suspended air circulation and destratification ceiling fan is used in an office or retail environment and is designed to circulate cool air around the space reducing loads on the AHU and chiller and also capture wasted heat before it escapes into the void above the ceiling. This gives the benefit of circulating and evenly distributing cooling from HVAC systems a lot quicker, and with much less energy around the space, while in winter pushing the hot air sitting up under the ceiling back down to where it is required at or near floor level.
Cold and hot air is evenly distributed throughout the interior area to improve the working environment. The Airius suspended destratification ceiling fan is ultra quiet so as to avoid any additional noise pollution in the work/retail space.
Airius offers the only air turbine destratification fan featuring a venturi nozzle design and patented stator system to ensure a laminar non-turbulent column of air is delivered from the ceiling to the floor below where we live and work. The combination of housing shape, patented stator, energy efficient motors, control selection and wide product range is what makes Airius the world leader in destratification technology.
In our Suspended Ceiling model, a dome separates the Air Pear fan from the air space (plenum) above the ceiling grid. Only the conditioned air in the room below the unit is mixed.
At delivery, the Suspended Ceiling fan speed can be pre-optimised for your building's layout. We also offer multiple control options, including variable speed or wireless control for use by staff or with energy automation platforms.
Uses
Used in place of a 600 x 600 mm. acoustic ceiling tile
Used to  cool or destratify/thermally equalise buildings
Used to remove hot and cold spots in an air conditioned space
Used to equalise humidity
Used to increase thermal comfort during the summer and winter
Used to reduce ceiling temperature to extend life of lighting
Used as a spot cooler
Performance
Capable of temperature control within 0 to 2 Deg.C  with proper array/density of units
Up to a 35% reduction in HVAC energy use
Maximise comfort
Eliminate hot and cold spots
Performance and results of the Suspended Series are subject to many variables such as, but not limited to, the interior environment, exterior environment, conditions of building structure, HVAC system performance and/or electrical service and thus actual results may vary.
Features
Energy efficient operation
Easy installation
Columnar laminar flow
Patented multi-vane stator
Venturi Nozzle
600 x 600 mm acoustic tile mount
Colours: PMS Cool gray 2C (off white)
Speed adjustable with optional control
Optional factory installed PHI cell to fight mould, bacteria, viruses, VOCs and odours.
Made in the USA
Warranty
Airius warrants products listed below will operate properly and be free of defects in materials and workmanship according to the following terms:
Airius Fans 5 Years (All Parts/Components)
Money back guarantee – 30 days
Refurbish program after 5-year warranty period ends
Please refer to the full warranty information in the installation, operation and maintenance guide.