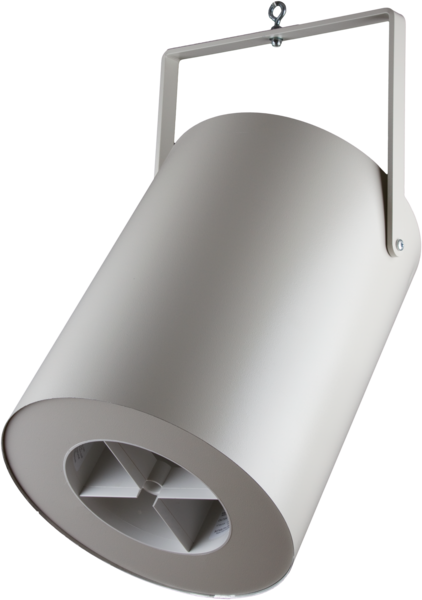 Designer Series
Solve comfort issues, increase productivity, save on HVAC energy costs and reduce your carbon footprint with the Architectural 'Designer Series' fan system. The Airius Designer Series shares all the same features and benefits the World famous Airius Air Pear but comes in an enclosed cylindrical powder coated aluminium housing and is perfectly suited to architecturally sensitive installations. Working in concert, each Designer Series fan delivers gentle efficient air circulation to balance overall air temperature from ceiling to floor and wall to wall. Available in most Airius Air Pear motor type and size configurations, various sizes, colours and bespoke finishes to suit your building's needs.
Find out how air movement can offer up to 7 degrees C perceived cooling at 36 Deg C.
How does stratified air impact your business, and how can Airius help?
Watch a video of the Airius system in action.
Download the Airius Oceania brochure.
Download submittal documents, BIM/REVIT files, and our installation guides.
Airius offers the only air turbine destratification fan featuring a venturi nozzle design and patented stator system to ensure a laminar non-turbulent column of air is delivered from the ceiling to the floor below where we live and work. The combination of housing shape, patented stator, energy efficient motors, control selection and wide product range is what makes Airius the world leader in air circulation  and destratification technology.
Available in several models, the Designer Series is suitable for use in buildings with ceilings from 2.4 to 39 mts. and is available in a powder-coated aluminium housing. A broad range of bespoke finishes including the  Pantone colours, or timber veneers etc. are available at an extra cost.
At delivery, the Designer Series fan speed can be pre-optimised for your building's layout. We also offer multiple control options, including variable speed or wireless/wifi control for use by staff or with energy automation platforms.
Uses
Used to circulate air in summer for cooling outcomes
Used to reduce the need for ductwork in A/C installations
Used  to destratify/thermally equalise buildings in winter
Used to equalise humidity
Used to increase thermal comfort during the summer and winter
Used to reduce ceiling temperature to extend life of lighting
Used as a spot cooler
Performance
Capable of temperature control within 0º to 2º C with proper array/density of units
Up to a 35% reduction in HVAC energy use
Maximise comfort
Eliminate hot and cold spots
Performance and results of the Designer Series are subject to many variables such as, but not limited to, the interior environment, exterior environment, conditions of building structure, HVAC system performance and/or electrical service and thus actual results may vary.
Features
Energy efficient operation
Easy installation
Columnar laminar flow
Free hanging unit can be angled up to 90º off vertical
Conforms to UL standard 507 for safety electric fans
ETL certified in US & Canada
CE listed
5VA flame resistance rating. Highest rating of any small destratification fan
Patented multi-vane stator
Venturi Nozzle
Ratcheted handle allows fan to be angled and locked in position
Eyebolt provided for hanging the fan using beam clamp/bridle ring, chain-link/carabiner or similar method. Refer to installation, operation and maintenance guide for further details
Colours: PMS Cool gray 2C (off white) or custom colour
Speed adjustable with optional control
Optional factory installed PHI cell to fight mould, bacteria, viruses, VOCs and odours.
Made in the USA
Warranty
Airius warrants products listed below will operate properly and be free of defects in materials and workmanship according to the following terms:
Designer Series Fans 5 Years (All Parts/Components)
Money back guarantee – 30 days
Refurbish program after 5-year warranty period ends
Please refer to the full warranty information in the installation, operation and maintenance guide.
Downloads
Designer Series Model 60-P4 Data Sheet »
Installation Guide Designer Series Models 60/PS »
Installation Guide Designer Series Models 60/EC »