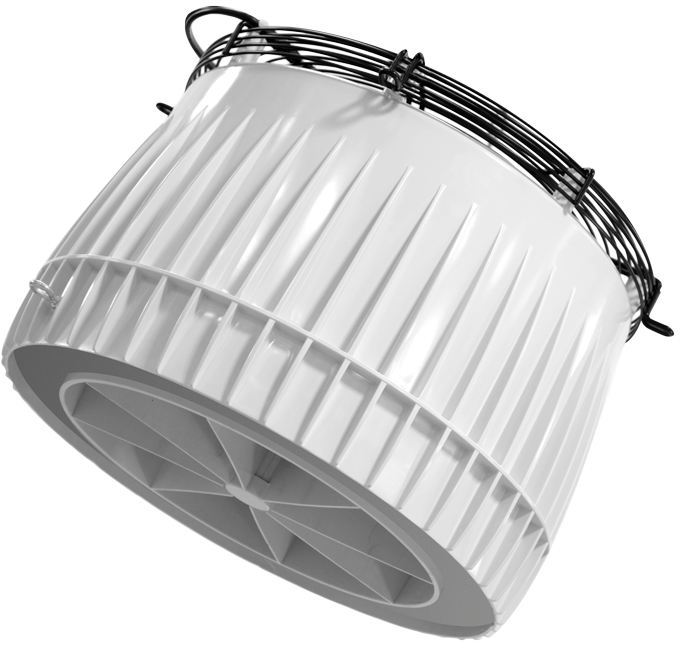 G400 Sapphire Series
Air flow can make you feel up to 6 Degrees C. cooler on a 36 Degree C. day!
The exciting and very powerful new Airius G400 Sapphire Series will provide large amounts of air flow at high velocity to provide unmatched air flow and evaporative cooling in large spaces.Just like fan... with no exposed blades. Airius fans offer cooling at a cost of 90% less than air conditioning and around 20% less than large bladed fans. Airius fans provide cooling air movement for your large spaces. With much less upfront and consequential costs compared to large bladed HVLS fans and air conditioning systems.

Find out how air movement can offer up to 7 degrees C perceived cooling at 36 Deg C.
How does stratified air impact your business, and how can the Airius help?
The newly released Airius G400 fan provides a massive amount of air for summer cooling into all kinds of spaces from 7-12 metres high. Used in basketball and sports courts, climbing gyms, warehouses, manufacturing plants etc. this very powerful fan will literally 'blow you away'. With a centreline velocity of 2.9 mts a second at 10 metres and providing 14.9 newtons, this robust and lightweight fan can be mounted vertically or horizontally to cool your inhabitants and your space.
The fans are used together as a system and,when suspended vertically, all work together to make  large volumes of air movement just above floor level, all around the space. With over 150 installed across Australia since November 2019, the Sapphire P4 and Sapphire Plus  EC units come with full speed control  capability for both motor types or  our new wireless control  option for the EC version.
BOOK YOUR DEMO TODAY
Uses
Used to cool people and buildings
Used to replace ductwork and mix or distribute air
Used to de-stratify/thermally equalise buildings
Used to equalise humidity
Used to increase thermal comfort during the summer and winter
Used to reduce ceiling temperature to extend life of lighting
Used as a spot cooler
Performance
Capable of temperature control within 0-2ºC with proper array/density of units
Up to a 35% reduction in HVAC energy use
Maximise comfort
Eliminate hot and cold spots
Performance and results of the G400 Sapphire Series are subject to many variables such as, but not limited to, the interior environment, exterior environment, conditions of building structure, HVAC system performance and/or electrical service and thus actual results may vary.
Features
Energy efficient operation
Easy installation
Columnar laminar flow
Free hanging unit can be angled up to 90º off vertical
Conforms to UL standard 507 for safety electric fans
ETL certified in US & Canada
CE listed
5VA flame resistance rating. Highest rating of any small destratification fan
Patented multi-vane stator
Venturi Nozzle
Ratcheted handle allows fan to be angled and locked in position
Eyebolts provided for hanging the fan using beam clamp/bridle ring, chain-link/carabiner or similar method. Refer to installation, operation and maintenance guide for further details
ColoUrs: PMS Cool gray 2C (off white), PMS gray 432C (gray), or black
Full speed adjustable with optional control
Made in the USA
Warranty
Airius warrants products listed below will operate properly and be free of defects in materials and workmanship according to the following terms:
Airius Fans 5 Years (All Parts/Components)
Money back guarantee – 30 days
Refurbish program after 5-year warranty period ends
Please refer to the full warranty information in the installation, operation and maintenance guide.