Summer is over. What types of facilities have been cooled by Airius this summer?
See what our customers say here.
We had a few engineers, some architects and some potential customers ask us, over the course of summer, for some examples of businesses using our Airius Air Pear units for cooling.
As Airius has had a great summer providing cooling to numerous types of facilities we had no trouble in offering up a range of examples and also answering the question…
How Does Airius Compare to Airconditioning and Fans?
Here in Australia we are still trying to accept that fans offer a cost-effective methodology for cooling people. Not sure why that's so hard to understand but certainly, for some of us, it is.
As the default position here in Australia is air conditioning, (and there is nothing wrong with that either) there is a lot of scepticism and disbelief that air movement can offer significant levels of cooling, even in extremely warm, hot and dry/humid environments. If you read our last newsletter on fans and heatwaves (Issue 12 – It's a 51 Deg C. heatwave. Is a fan what we need? What does the science say?) you will have a clearer understanding of what the latest research and science says about the importance of utilising air movement, primarily achieved by the use of fans  for cooling in heat waves conditions.
In a nutshell, that science details the critical and lifesaving cooling effect of air movement even at temperatures of 51 Deg C!
Up to 4 Deg. C. cooling effect can be achieved with the use of simple fans at those types of temperatures.
And 'simple' is one of the key attributes for Airius fans. As they are an extremely efficient (Generally EBM Papst German motors) motor in a smart case, where the patented and therefore unique air delivery technology is proven to project the air over long distance, using very, very low amounts of energy, there is not a lot to go wrong.
There is more  science too, for example,  from researchers such as Professor Richard Aynsley, which highlights that at lower temperatures, say 35 Deg C, 5-6 degrees cooling effect can be achieved with fans. That's a very good outcome for a low cost simple solution and better than overheating!
In regards to air conditioning spaces…
Many customers or facility types cannot afford either implementation, running costs, or both, of an air conditioning system.
And for outside or unenclosed spaces such as sports stadiums, or bus shelters, hotels, bar areas, queues or restaurants etc, shade is the only protection from the heat. If the outdoor ambient temperature is rising up over 30 Deg. C, then the only solution you have to improve comfort, is to utilise a fan and move that air.
Over this summer Airius has installed their products into a broad range of facilities to assist with or improve cooling. You can also see below what some of our customers said too.
Let's have a look to see the types of applications.
Sports Halls
Sports hall and gymnasiums have been one of the most popular applications for Airius technology for cooling their spaces this summer. Offering a range of cost, operational and maintenance   benefits and opportunities when compared to both A/C and the other commonly used alternative, large bladed fans, numerous facilities from QLD down to Victoria and across to WA have experienced the value and benefits of Airius fans. Both school sports halls and sports facilities as those used by PCYC and YMCA, and gymnasiums such as Virgin Gyms at Barangaroo in Sydney, have successfully installed the units.
Take a look at what Matt Jepson, the facilities manager from Pittwater House School in Sydney had to say about…
…Why They Chose Airius After Looking at Several Alternative Systems
…How Easy Was Airius to Install?
And here's what Peter, the facilities manager at Green Point Christian College in the Central Coast of NSW had to say about using Airius fans in his sports hall…
…Why Airius Won Their Business over Fans and Airconditioners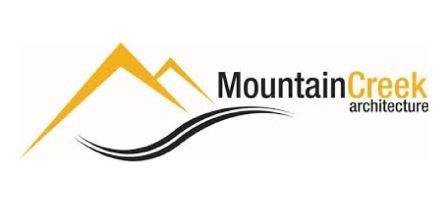 "….I spoke to the high school PE teacher (major user of the stadium) & they are finding the Air Pears really good, especially in summer!"

Helen Mathew FRAIA

Mountain Creek Architecture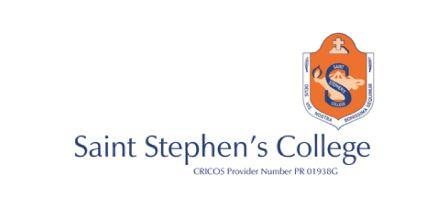 "…..The Airius Air Pears fans have proved to be effective and do not dominate the space but fit easily into the hall; they are almost not noticeable whilst moving the air around the hall, creating air flow on hot, still days making the hall more comfortable to teach and learn in."

Rod Seib

Director of Sport - Saint Stephens College
As you can see, the clients often wanted to install A/C, but their upfront costs were prohibitive as were the running costs.
Having improved thermal comfort in summer is better than having no thermal comfort.
Over the next few months some QLD State schools and some of the larger basketball associations will be installing the Airius units to cool their halls too.
Let's look at the initial up-front cost benefits.
Mechanical engineers indicate that a for a sports hall, to achieve an effective cooling design, around $450.00 sq. metre is required to install a ducted air conditioning system.
Certainly, there may be cheaper A/C type options but will they work in an 8-metre-high + space?  Plus, air conditioning tall and large spaces creates a range of air distribution issues too, that can be difficult to overcome.
Lets also not forget the running costs. They can be very expensive for a school hall or large space like this. Remember you are chilling a very large amount of air and having to effectively distribute that air too. That's a lot of A/C fan size, power and energy use.
If you take a typical single court basketball hall of 650 sq. metres, based upon $450.00/ sq. mts. to air condition that will cost around $300,000 k up front cost.
Plus, will that make everyone comfortable? We know from our previous blogs not everyone is comfortable in an air-conditioned space. (That's a separate issue and one for another upcoming blog)
If you consider an Airius solution for an 8-metre-high sports or assembly hall, the cost will be somewhere between $12-$25 k including install.
And a total running cost of between 25-40c per hour on average.  That's not a lot of cost over a year. Much less than an air conditioning system running over a 12-month period.
As you can see, signifcant upfront and running costs savings are achieved by these customers who are using fans, especially with all the other benefits such as: –
No duct work
No roof top plant
No strobing requiring lighting redesign
No ongoing costly maintenance programmes
No risk from basketball damage
No roofing structural reinforcing
No cages
Portability
Significantly less redundancy compared to large bladed fans
Dynamic internal environment
Plug and play solution – no commissioning required
Warehouses
This summer has seen a large surge in use of Airius Air Pears for cooling in different types of warehouses and manufacturing facilities.
Lush Cosmetics, for example, have a large warehouse and manufacturing facility in western Sydney and after trialling the Airius units last summer in a smaller area of their warehouse, this summer ordered over 130 Airius units to provide the cooling air movement so needed in those types of facilities.
One of the key benefits Airius units offers facilities like this is the ability to move the air for cooling down between the racks and shelving. Typical large bladed fans move the air around over the top of the shelving but the Airius units can get the air down and where the workers are.
Plus, the Airius units offer no negative impact to overhead cranes as they can be mounted above those cranes.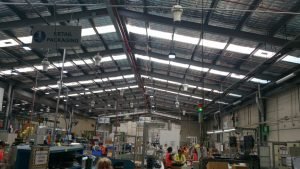 Also, light strobing is not an issue using Airius fans and as they are directional, they can be placed in locations not normally considered for fans and direct the air to where it's needed. It may be an optimum location, or somewhere out of the way, where you locate the fan, while still able to push the air to places of demand and cooling requirements. That flexibility, on top of just locating the units across the roof like a normal fan (or on the walls) if required, means the Airius  units can be utilised in all sorts of facilities for cooling. They can be fitted to both walls and ceilings or roofs too. This improves flexibility.
As well as Lush, there were storage facilities, TYCO, DHL and printers and manufacturing plants all utilising the Airius cooling solution this year.
Car Showrooms
Car showrooms are a large user of Airius units overseas and now in Australia, this summer has seen car showrooms such as BMW, Toyota, Honda and Skoda, utilise Airius Systems.
In these instances, the Airius units were implemented in conjunction with Air Conditioning, primarily to help circulate the cooling air and to ensure destratification to provide heating savings in the cooler months.
Once again improving comfort and saving energy.
Indoor Pools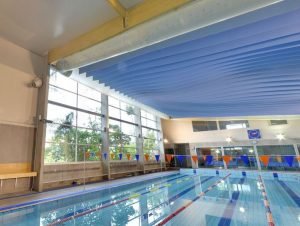 Quite a few indoor pools have installed Airius systems over the last six months, in order to either circulate air round the space to reduce condensation and improve summer comfort on the concourse, or to reduce winter heating energy savings.
For example, Toowoomba Grammar School in QLD utilises the Airius units to do both in their indoor pool and also uses the Airius units to provide cooling air movement in their new sports hall.
Councils
There is now a strong interest from councils in utilising the Airius units in their public facilities such as function centres, workshops and foyer areas, just to name a few.
Moonee Valley Council in Melbourne has utilised some of the mid-size Airius units to offer air circulation in summer in one of their halls used by elderly inhabitants for a range of events, but also to reduce their winter heating bills through effective destratification.
Government Facilities
The National Archives building in Sydney recently installed Airius units in their Sydney facility.
Their application was to use the air circulated by the Airius Fans to offer moisture and condensation removal in their plant room, which they combined with the use of the unique PHI Cell, fitted inside the Airius Air Pear units, to ensure any mould was removed in that area.
That has worked very well and was a simple install too.
Tafe
Tafe has recently installed Airius Air Pears for cooling their workshop areas in the new Bohle TAFE in Townsville, North QLD. Using the Model 25 Air Pears at 4 metres high, the non-turbulent air flow from the Airius units ensures woodworking dust is minimised in the workshop zone. Combined with the ability to locate the units away from the work zones, due to their ability to push air over a distance, the Airius units provide a simple, low cost cooling solution.  And Townsville certainly gets hot.
Airius have a unique ability to be able to offer measurable summer cooling benefits and winter heating benefits, improving thermal comfort across all seasons. Additionally, proven and significant energy savings can be achieved in both winter and summer in air conditioned or heated spaces.
Remember, all sorts of buildings are benefitting from Airius cooling  in Australia, from offices, to classrooms, to foyers, theatres and libraries, prisons…the opportunities are everywhere.
Now we are moving into winter we can use our next few blog articles to discuss the value to you and your clients or their facilities of the implementation of destratification to push the warm air in winter back to the floor. So stay tuned.
Cheers for now.
John Brodie, MSc (Sus Des) U Syd 
Director, Airius Australia