Introducing a New Level of Precise Comfort Control
Introducing a new level of precise comfort control and monitoring to suit your particular requirements!
The new Airius Touch Screen Controller is a programmable room controller with pin code access, ideal for managing 1 to 30 or more Airius EC fans per fan group (subject to fan size) where each fan group  can be individually controlled by one of the 4 or 8 fan control groups on the selected screen. The Airius Touch Screen Controller utilizes the 0-10 Volt analogue signal from the fan to enable a range of important control options. These options include programmed temperature control set points enabling fans to turn on or off, once preset room temperatures are met. The fans can be programmed via preset temperature or (in some versions) humidity settings to increase or decrease speed between user-programmed speed parameters for each fan group.
Adding Something More To Your Comfort!
An Integrated and external temperature sensor are also included as standard for destratification applications, with the 'Delta T' between floor and ceiling temperatures programmable along with the fan speeds to suit that programme. Once set, you can programme the fans to increase or decrease speed to suit your preset thermal comfort and performance parameters.
The Airius Touch Screen Controller provides fan speed control capabilities from 0-100% in 10% increments. A full range of Auto, Manual, Manual Full-Speed and Auto Off functions are available for the user to programme/utilise. In addition, there is the ability to programme room temperatures and fan speeds to optimise the cooling effect and comfort.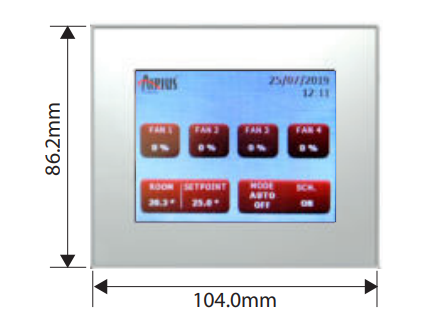 The unit has no on-board inputs or outputs, but the controller is able to connect to a multitude of external Inputs and Outputs, due to multiple communication ports and protocols such as Modbus and RS485 High Level interface capability. The Airius Touch Screen Controller offers a 65K multi-colour, 320 x 240 pixel resolution, as well as a resistive touch screen with audio acknowledgement.