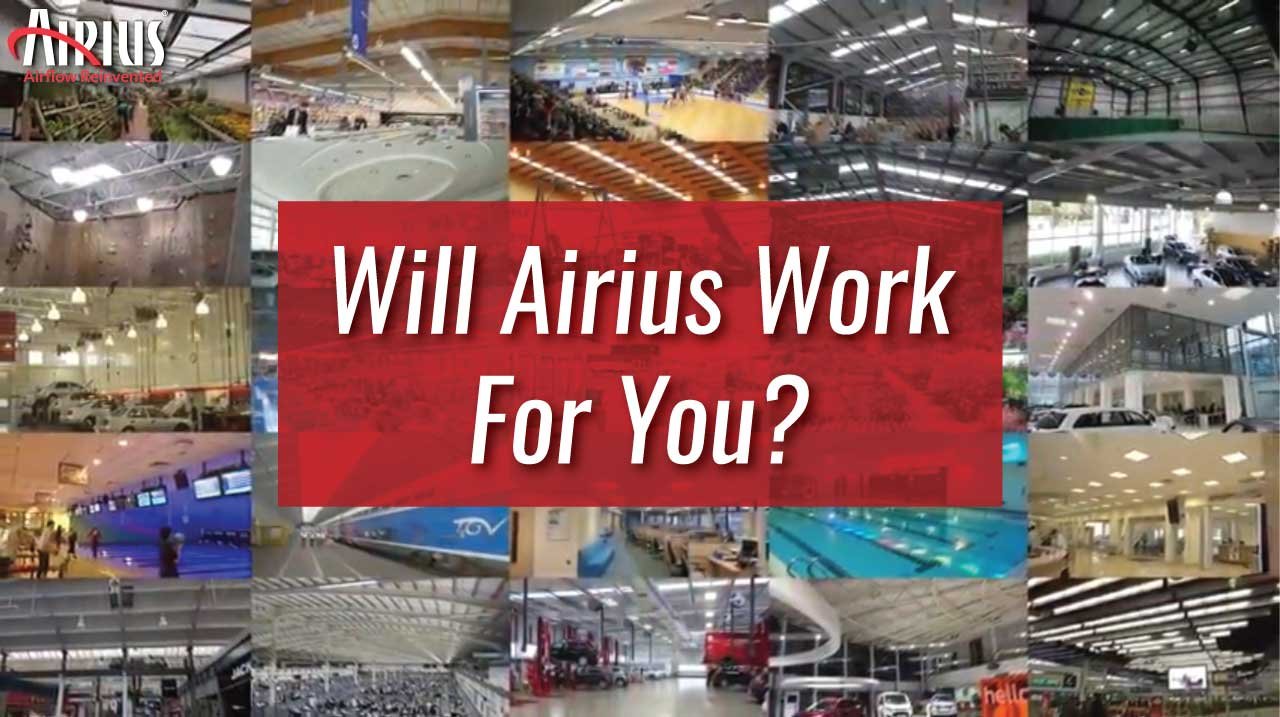 Will Airius Work For You?
I got this question the other day, will Airius work for me?
It was from a school, who wanted to cool their sports and assembly hall.
I replied yes, in fact it will work for almost any situation. I've listed some of them below, starting with school halls, and why:
School Halls
Warehouses
Museums
Classrooms or lecture halls
Covered outdoor areas
Indoor Pools
Offices
Atriums
Railway Stations
Supermarkets
Basketball Courts
Sports centres
Houses
Theatres
If we look at the facility types above, Airius units work for them because of a range of reasons such as: –
1. Air Movement:
The Airius Air Pear® will create strong yet controllable and directional air movement. Air movement has been used for thousands of years to provide cooling to building inhabitants and can offer up to 7 degrees C perceived cooling in hot and humid or hot and dry climates.
2. Proven for Decades:
Empirical thermal comfort research supports this and you can find out more about that by contacting Airius, or some of our customers -see below (or click here for some research data).
3. Range of Sizes:
The huge range of shapes, sizes, motor types and control capabilities ensures there is an Airius Air Pear® for every situation.
4. Easy to Install:
The unobtrusiveness of Airius units enables them to be installed with no impact on infrastructure such as overhead cranes in warehouses, unusual ceiling shapes as found in theatres, or in supermarket cold aisles or building atriums.
5. No Exposed Blades:
Because Airius has no exposed blades, the strobing of lighting created by typical bladed fans doesn't occur when you use Airius Air Pears or our other product ranges such as the Q50 or retail series.
6. Simple Installation:
The simple installation process and very light weight of the units negates any requirements for structural changes to the buildings, reducing install costs and negative impacts on the facilities during the install process.
7. Directional airflow:
In railway stations for example, the ability to direct the air flow to where it is wanted and work with the air conditioning plenum on the station platform, combined with the ease of install makes the units very effective.
8. Cooling energy savings:
In air conditioned buildings, the use of Airius Air Pears in conjunction with the air conditioning means that air conditioning thermostat set points can be increased in summer, while using the air movement to offer cooling until the air conditioning is turned on. Up to 35% of cooling energy savings in air conditioned buildings can be achieved by substituting air movement for conditioned air with the same comfort outcomes. That's a lot of energy saving!
9. Very low noise:
The very low noise of the Airius units makes them suitable for theatres, museums, offices and classrooms.
10. Unique air delivery shape:
In supermarkets, for example, the unique air delivery shape and effectiveness ensures the cold aisles are more comfortable with no impact on the performance of the refrigeration cabinets.
11. Condensation removal:
Facilities with condensation problems such as indoor pools or plant rooms benefit greatly from the use of the Airius Air Pears. The controllable air movement changes the dew point in the space, removing condensation, and the directional air flow enables specific problem areas to be targeted.
If you have any doubts, feel free to give me a call on +61 401 848888 or go to www.airius.com.au/contact and I can answer any questions, or put you in touch with a customer in your situation already reaping the benefits of the Airius Air Pear® system.
Stay Cool,
John Brodie, MSc (Sus Des) U Syd 
Managing Director, Airius Australia