When you need a cooling solution for warehouses, it's important to compare all available options to ensure you get the best cooling solution for your warehouse.
In this article, we explore the various warehouse fan solutions and the pros and cons of each, to help you make the most informed decision.

Option 1: Large Blade HVLS Ceiling Fan (High Volume Low Speed)
HVLS large blade industrial fans, such as Big Ass Fans, are a relatively well-known and popular choice for warehouse cooling.
The Pros
When compared with warehouse air conditioning solutions, they offer lower energy usage and therefore lower cooling costs for warehouses.
The use of these fans do not require any ducting (like some AC systems) and most offer a relatively long life with minimal maintenance.
Their large blade design is an upscaled version of common household ceiling fan designs, using large blades at low speed to move high volumes of air, creating air movement and cooling for large spaces such as warehouses.
The Cons
Large blade ceiling fans are heavy and require significant ceiling infrastructure (such as a steel beam) to support the HVLS fan.
They also often require three phase power which can be expensive to supply and install.
They can interfere with other ceiling mounted elements such as overhead cranes, lighting or AV gear, and/or create a light strobing effect if mounted below lights.
Whilst they are designed to move large volumes of air, that air movement is "chaotic" which means it is non-directional and uncontrolled.
When compared with other directional fan solutions, they can be significantly less effective at warehouse cooling and destratification, especially if there is racking or aisles present.
The tendency to push the air sidewards or downwards in a large footprint means they struggle to position air into the aisles where it is needed. Instead, they blow the air across the top of the racking that separates the aisles.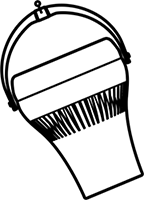 Option 2: Enclosed Tube / Turbine Fan
A newer and less well-known cooling solution for warehouses are commercial enclosed fans which feature internal turbine-style blades and are significantly smaller than their large blade fan counterparts.
The Pros
Like HVLS large blade fans, these commercial fans similarly offer low energy usage and low cost warehouse cooling when compared with commercial air conditioning.
However their smaller size and enclosed blades mean they are lighter and easier to install into almost any warehouse ceiling with no extra infrastructure or power upgrade requirements.
They can also be installed amongst existing lighting or AV equipment, or overhead cranes, and do not create any light strobing or interference, as it often the case with large blade fans.
Their enclosed blade design offers more directional and powerful airflow meaning they can be more effective at providing cooling airflow in high ceiling warehouses (or destratification for heating in colder climates), and are especially effective for directional airflow between racking or down aisles.
These modern, aesthetically stylish fans can also be mounted sideways for horizontal airflow where needed, and can also provide low cost, controllable and directional localised spot cooling. They come in a range of sizes to suit all applications and actually work together as a system for optimal cooling and/or destratification when using several together in a warehouse.
Commercial Turbine Fans are an affordable warehouse cooling solution and offer minimal maintenance and a long lifetime.
The Cons
Not all commercial turbine fans are built the same, so you need to be wary of cheap imitations which use poor quality motors and copycat designs that don't provide the same cooling airflow for warehouses as quality brands like Airius.
Many cheap imitations will not have the power or directional airflow to effectively cool or destratify warehouses, and motors that fail after 1-2 years – meaning higher replacement and maintenance costs, and therefore higher overall costs in the long run.
So… what is the best fan for warehouse cooling?
When considering all commercial fan solutions for warehouse cooling, Airius fans are by far the leading choice for many reasons.
The Airius difference is the patented stator design and Venturi throat or the new exciting Bypass Technology® which offers unparalleled thrust and directional air movement.
That, coupled with their quality German-made EBM-Papst motors means Airius fans will outlast and outperform its competitors every time.
Airius fans are world leaders at moving large amounts of air, over long distances using very low amounts of energy.
Just take a look at these videos which show how Airius fans compare with other commercial fans.
There is reason they are the #1 choice for countless engineers, architects, building designers and specifiers in Australia and around the world.
To learn more about Airius fans for your warehouse project, call 1300 985 552.